Add New Post
ANNO DRACULA AND ALL THAT JAZZ
Spooky, or what? But on the flight down to London from Edinburgh, there I was sitting reading the latest issue of "Black Static" (only the greatest horror magazine in the world), and in particular Peter Tennant's "Case Notes" which had a feature on Bram Stoker's novel "Dracula" and several books that it has spawned recently, when a woman sits down beside me and she's reading Kim Newman's "Anno Dracula", arguably the best of the featured bunch, although Reggie Oliver's "The Dracula Papers" (which is in the reading pile) and Karen Essex's "Dracula in Love", sound like pretty good reads too. A quick stop at Forbidden Planet at the mammoth Gollancz signing event lets me pick up the revised, and updated "Anno Dracula" (which isn't a Gollancz book, but FP still had signed copies available from Kim's recent signing) and given the extras - alternate endings, articles, screenplay draft, etc, it is a book that's even more essential than it was before.
In London I also spent a hard-earned Father's Day gift-voucher at HMV on some jazz. Timely, as it's the 25th Glasgow Jazz Festival this week, although I seem to be going to concerts all on my own (some people are actually going to Rome to avoid the jazz), but the new additions to the CD mountain-range are:
Kurt Elling's "The Gate" which starts with a cover version of King Crimson's "Matte Kudasi" and has a few other surprises on the way.
Pianist Giovanni Guidi's "We Don't Live Here Anymore", featuring his quintet which was stirring the jazz cauldron in my car today. You can't have enough jazz trombone, I say: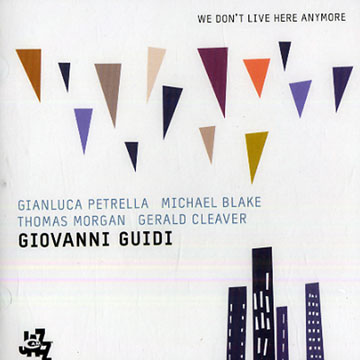 And, finally, Ari Hoenig's "Punkbop", another quintet offering, recorded at Smalls Jazz Club in Greenwich Village, with a more than slightly disturbing inner-sleeve photo. I guess another drummer needed that arm:
By:
Ian Hunter
On Monday, 27 June 2011
Comments( 0 )
Views(25066)
Please login to write comment